By Paul Bisono & MaryKate Smith
For first time parents, their toddlers first swim lesson can be a very nerve-racking experience. When I first began teaching, I always wondered why many parents seemed anxious walking into the pool area. My former boss explained to me that sometimes swim lessons can be a child's first exposure to learning. Her explanation allowed me to put the parents and child's' first experience into perspective. While I saw a child crying, parents saw their child having difficulty learning. A child who was afraid of going under water, to me, was seen by parents as a child who couldn't handle challenges. It is natural for these initial thoughts to occur when watching your child's swim lessons!
With this realization, I decided to change my mentality with swim lessons. I realized it was important to begin treating every swim lesson like it was the students first time experience with this activity.
Despite any swimmers' experience, preparation or amount of training the fact still remains that children cry, struggle, and can get upset when it comes to learning how to swim. However, that does not mean that there is nothing parents can do to support them. Following these tricks can actually help your child learn how to swim faster! By taking an active role in your child's education, they can actually retain more information, have a deeper appreciation for swimming, and most importantly, avoid wasting money on swim lessons where nothing gets done! With that being said, below are some tips and tricks you can use to make sure your child has an amazing swim lesson!
1) Before the first swim lesson begins, spend some time exposing your child to the water.
Fear is often a product of uncertainty. Education and knowledge can make a world of difference for any child. Show them some videos of people having fun in the water, Olympic races, or bring them to a pool party! Children are curious, and this curiousness can either lead to excitement, or fear depending on their exposure and preparation. Introducing your child to the water before the first lesson gives you the opportunity to place swimming in a positive light!
2) During the lesson, be their number one fan.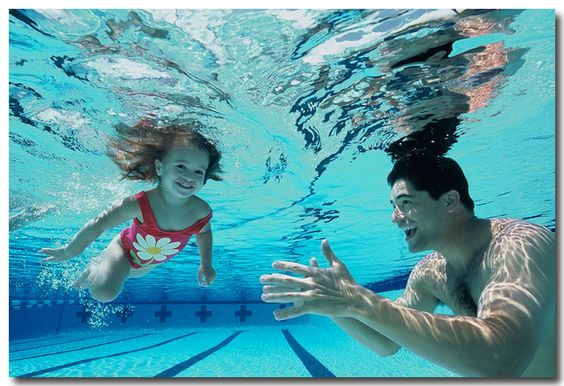 You would be surprised how much support and admiration means to a child. If a child is nervous, especially swimming with a stranger, and feels like they are not living up to their parents expectations, a fun opportunity eventually becomes a stressful and unproductive environment. No matter how small the achievement may seem, praise leads to a greater desire to continue to improve.
An example from my swim lessons:
When I teach swim lessons in Ronkonkoma, I teach students how to blow bubbles in the water before any other skill. This is probably the easiest skill to master, but the moment a swimmer achieves it, it feels like they just beat Michael Phelps in the 50 free at the Olympics! This skill is vital to being a successful swimmer, and leads very quickly to the child is putting their face in the water, floating on their back, jumping into the pool, etc. This happens for a couple of reasons:
The child gets a sense of accomplishment, and wants to continue that feeling.

The task felt simple, so they are more likely to believe the next task will also come to them as easily.

They start to associate challenging themselves with positive feedback.
So my advice to parents: Keep the positive cycle going, cheer your children on, and watch how much of a difference extra support can make!
3) Understand why your child might be struggling.
As we grow up, we tend to forget exactly how scary a swim lesson can be. What seems like a whole lifetime of knowing how to swim often makes us forget what a first swim lesson might feel like to a child. Below is an idea of what a swimmer goes through during their first lesson.
Imagine opening a door to a building you have never seen before. You walk a little further and you see a body of water that might as well be an ocean. Suddenly, you get nervous, and you look to your parents for comfort. Your parents then introduce you to a complete stranger. This stranger then starts bringing you over to this massive body of water, picks you up and brings you into the pool. In that instant, all control and comfort you knew has been taken from you, and your life is now in the hands of a person you just met. At this point, you're scared out of your mind, so you start crying. Now, imagine looking over to your parents, and seeing a look of disappointment.
Is this a slightly overdramatic? Maybe, but children have a different perspective than us, and it is important to be aware of what this situation may look and feel like to them. Be aware that this is what mostly every child goes through when they start lessons. Never be upset that your child is reacting the way they should around a stranger
My hope is that, after reading this, every parent is able to gain some insight and perspective about what swim lessons are like for first time swimmers! Patience, support, and understanding make a world of difference for swimmers, and can ultimately make swim lessons associated with a fun learning environment for all!